Chap Gary founded the company in 2004. He started with organic vegetable gardening in his teenage years, which grew into edible landscaping, and in turn exposed him to the principles of design and a growing enjoyment of Landscape planning. He worked for several established Landscape companies in the region before establishing EdenScapes.
He is a member in both the Louisiana Nursery Landscape Association and the Louisiana irrigation Association. His licenses include Landscape Horticulturist, Ground Applicator, and General Contractor: Landscaping, Grading & Beautification. His current certifications are: Certified Nursery & Landscape Professional, Kichler Light Pro Member, ICPI Certified Paver Installer, Segmental Retaining Wall Specialist and Better Business Bureau A+ Rating.
He speaks to many horticultural organizations on a regular basis, such as the Lafayette Master Gardeners and Abbeville Garden Club.
EdenScapes was selected as recipient of 'Lafayette's Finest' award.
When not at work, Chap also serves as a Pastor and Worship Leader. He enjoys spending time with friends and family, playing music, cooking, fishing, boating, and traveling to the beach and mountains.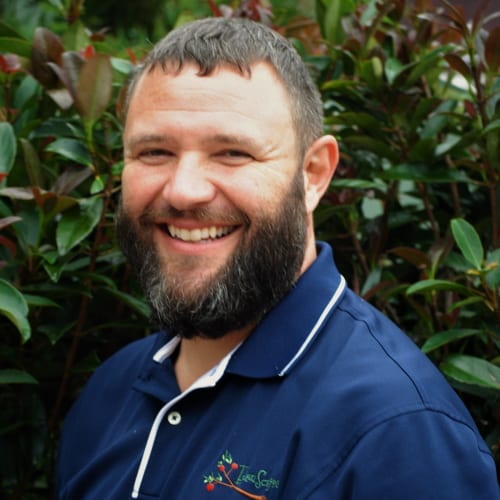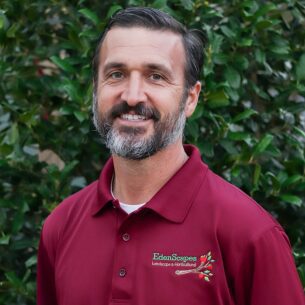 Tad Dupuy Is a graduate of LSU's Robert Reich, School of Landscape Architecture program, where he earned his bachelors of Landscape Architecture in 1999. He started his career at a multidisciplinary design firm in New Orleans where he was introduced to the collaborative design process and was fortunate to work on high profile projects like Harrah's Casino.
Tad soon returned to his hometown in central Louisiana and joined the team at Patrick Moore Landscape Architects and Planners. At PMLA Tad participated in large scale planning projects such as Gretna City Park Masterplan, Crowley Urban Masterplan, and many other projects that helped to inform and influence his design perspective. In the early 2000's, Tad moved to Lafayette and joined the staff at Grass Roots Inc. as their Landscape Architect. It was here at Grass Roots that Tad developed a love and appreciation for the design/build process. By 2004 Tad was working for himself as the owner and operator of Lafayette Landscape Inc. He continued to work for himself for 17 years before joining our team at EdenScapes.
Tad is a licensed landscape architect, licensed landscape horticulturist, licensed irrigation contractor, and an ICPI Certified Paver Specialist. He has been a member of ASLA, LNLA, LIA and is currently president of the board of directors for a local non-profit, LaHousing Lab.
Tad occupies his time away from work with his wife and three children, usually cheering them on at sporting events and theater.
Sandy Keelin comes to EdenScapes with over 40 years of bookkeeping experience.  She has been with EdenScapes for four years and is the glue that holds our office together.   When not working, Sandy enjoys attending church and hanging out with family and friends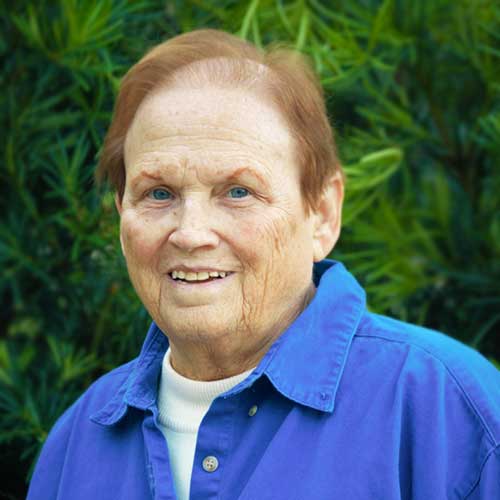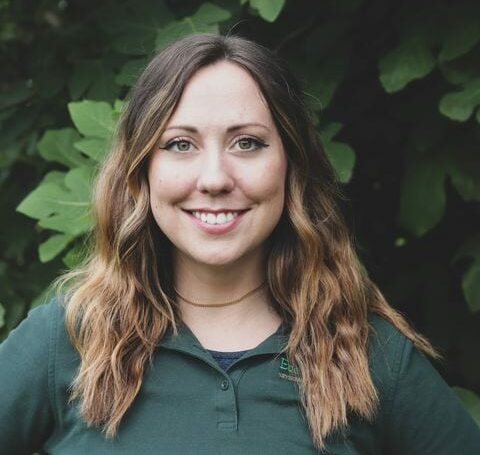 Victoria Bernard comes to EdenScapes with 13 years of experience in customer service and 4 years of experience in administration. She is one of the friendly voices you will hear over the phone, helping you with your invoice. She is a photographer, loves Jesus, her family, yoga, arts & crafts, and pie!
Chelsea Pinel is a graduate of Louisiana State University, where she obtained her B.A in Spanish Literature and Language and is currently enrolled at the University of Louisiana at Lafayette working towards completing her Masters of Business Administration. Chelsea is an earner of the SHRM Certified Professional credential (SHRM-CP), demonstrating mastery of HR proficiency standards.
Chelsea enjoys serving on the EdenScapes team by fostering an educational atmosphere where team members are motivated to grow both professionally and personally. She enjoys spending time with family, exploring the great outdoors, swimming, practicing yoga and trying new recipes.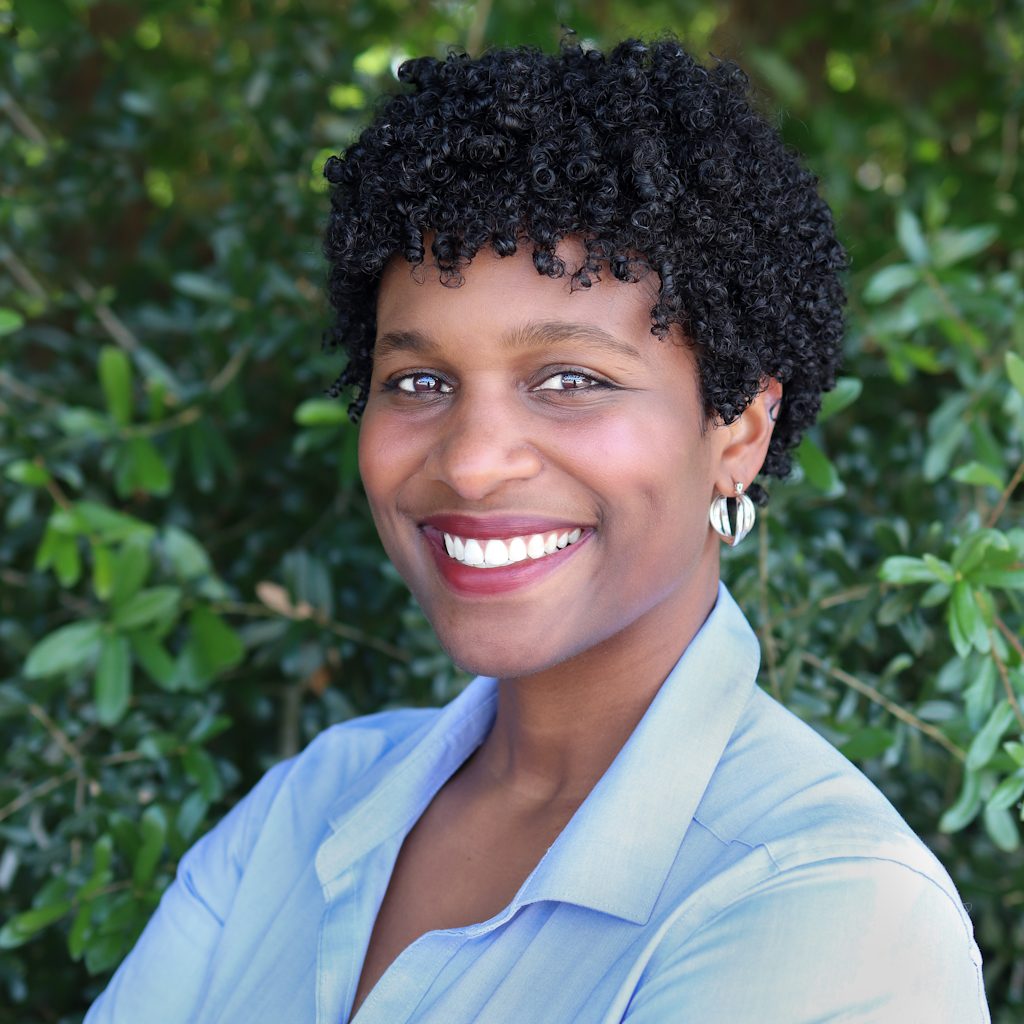 Mark Bertrand is the Accounts Manager for the Maintenance Department. He earned a Bachelor of Science Degree in Environmental Renewable Resources from University of Louisiana, Lafayette in 1997. He began his career in Landscaping and Lawn Maintenance in 2001. Mark was working for himself as owner and operator of Acadiana Lawn Management, L.L.C. for 20 years before joining the team at EdenScapes. He is a licensed Landscaping Horticulturist with the State of Louisiana.
Mark enjoys fellowship with others; he loves plants and the creativity of designing landscaping. He also loves fishing, hunting, kayaking, and spending time with his family and friends.
Amber has over 10 years of experience in landscape and horticulture. She has worked with companies in Lafayette and in New England. She has also spent time working for a local garden center and from there began working for herself for about 6 years. She specializes in designing pollinator and cottage style gardens. She has a Bachelor's degree from UL which focused on plant biology and she has a Master's degree in Informatics.
Amber's free time is spent exercising, gardening, and playing roller derby for Red Stick Roller Derby. Her favorite plants are Hydrangeas and Roses, especially climbing roses. She loves going to the beach and spending time with friends and family.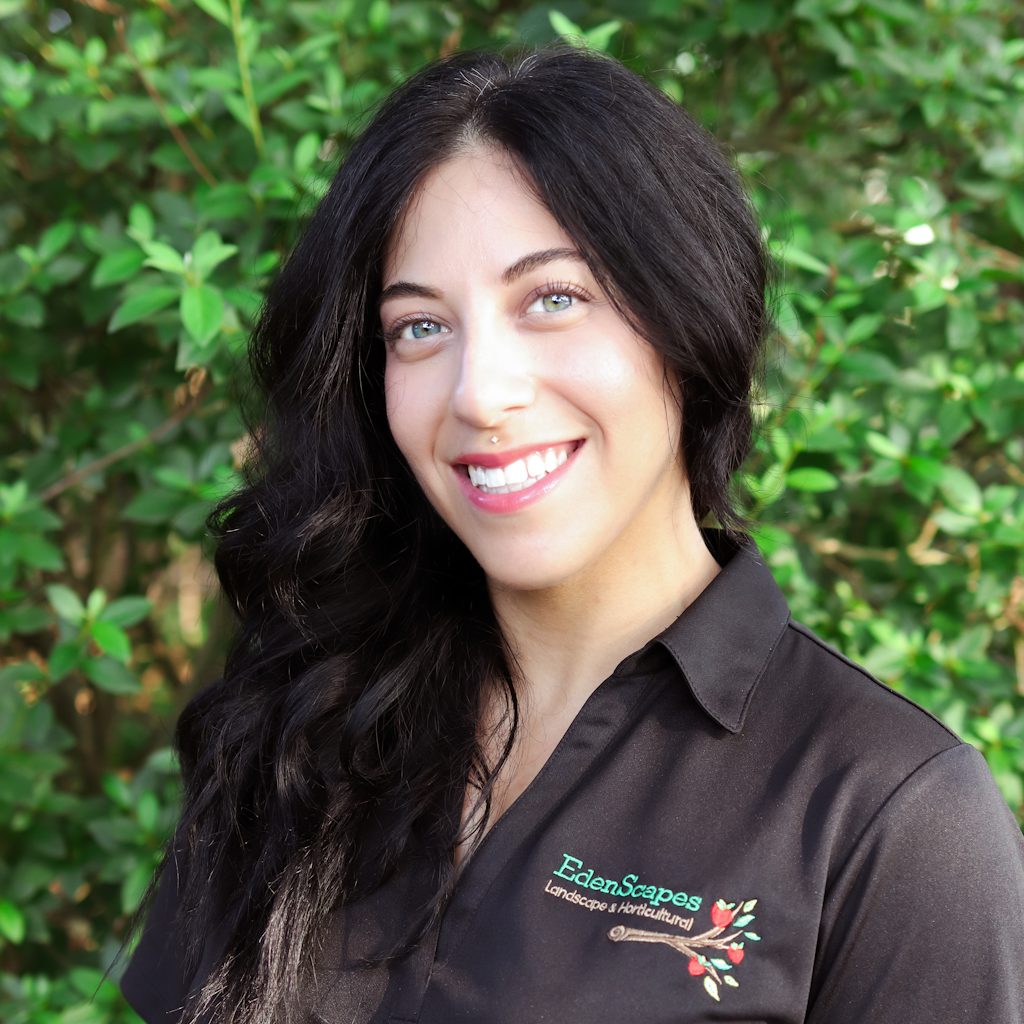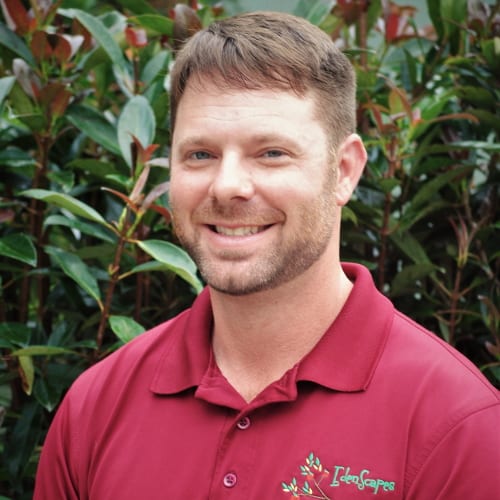 Aaron Crenshaw is the Operations Manager for the Landscape Construction department. He holds a B.S. degree in Industrial Technology and an Associates degree in Business. His experience at a top 5 nursery in the nation and construction background leads the landscaping department with precision and dedication to each project to meet the customers' needs and complete satisfaction to ensure each project comes to fruition. Aaron is also an ICPI Certified Paver Installer and a Segmental Retaining Wall Specialist. As a father of two, he enjoys spending time with his family, gardening, and fishing.
Daniel Bowen joined EdenScapes in the spring of 2018. He is supervisor of one of our Horticulture Maintenance crews and is a quick learner. He was president of the horticulture club at ULL and his love for plants is evident. Daniel enjoys spending time with his family, watching Saints games, and cooking.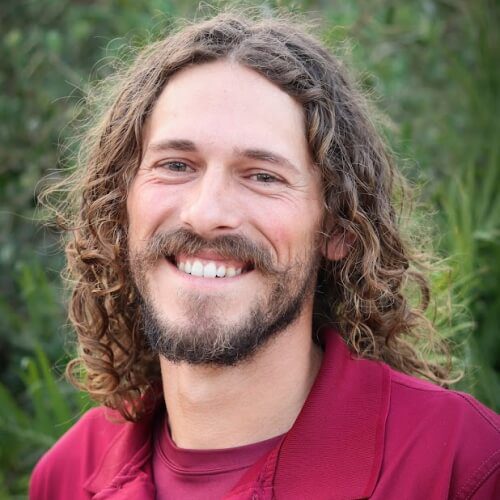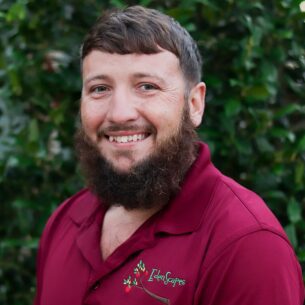 Dylan Vsseur joins our team with over 6 years of experience in the landscape industry, including lawn care, lighting, irrigation, hardscaping, installations, and is an ICPI Certified Paver Specialist. In his spare time he enjoys fishing, hiking, traveling, and spending time with his wife and two kids.
Santos Sanchez has worked in the landscape industry for 8 years and is a supervisor for one of EdenScapes Landscape Construction crews. His experience in drainage, irrigation, and maintenance make him a valuable asset to the company. When not working, he enjoys spending time with his family, helping others, and attending church. He loves God and is a man of great faith.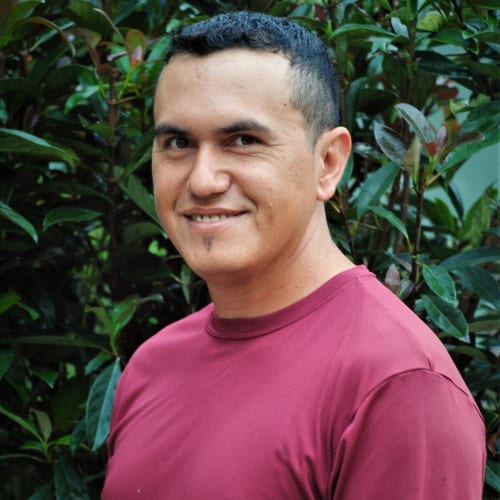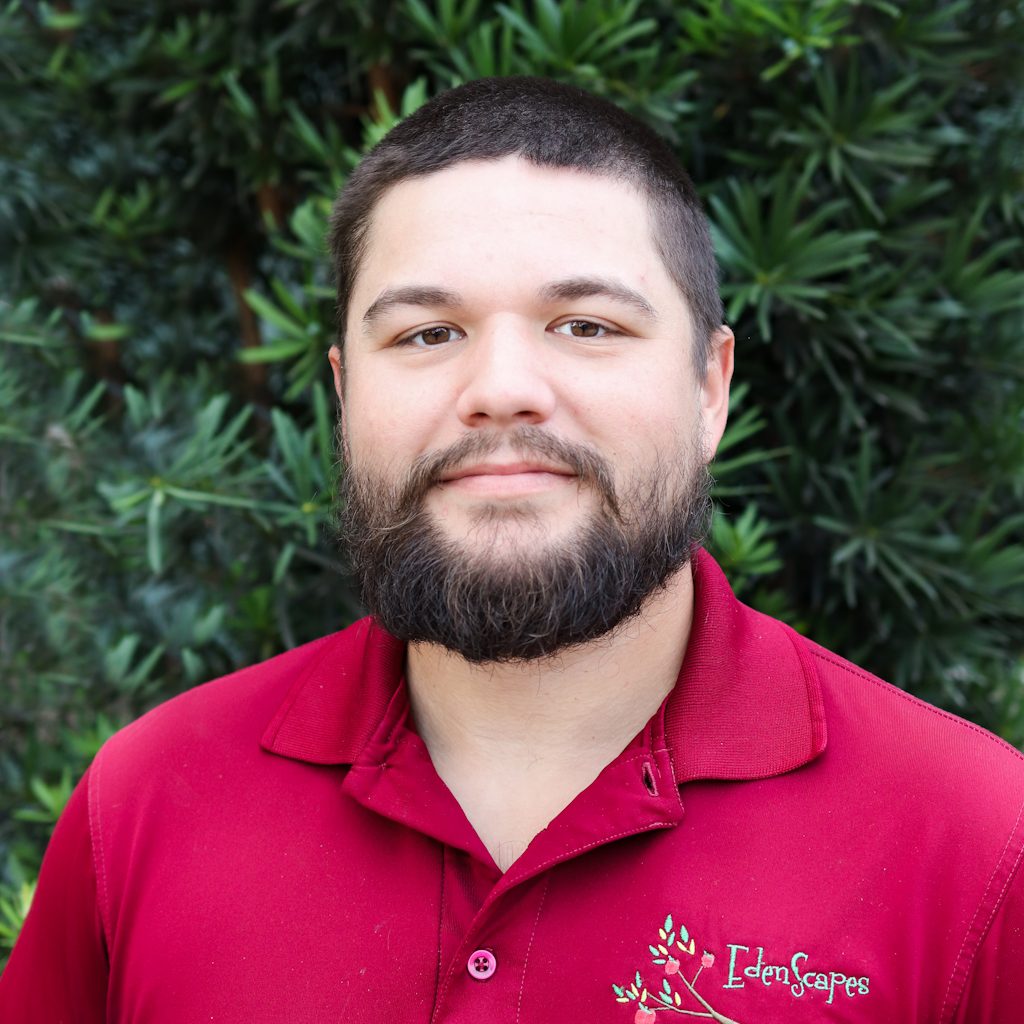 Michael Meaders joined our team in 2019. He has over 4 years of experience in the lawn care field. His laid back personality and attention to detail make his a great fit to our Maintenance team. When not working, Mike enjoys baseball, football, and video games.
Dexter Comeaux is one of the Lawn Care Supervisors since 2021. He has brought several years of experience with him to our company. When not working he enjoys spending time with his wife and kids, attending and serving at church, helping others, fishing, hunting and enjoying all that God created.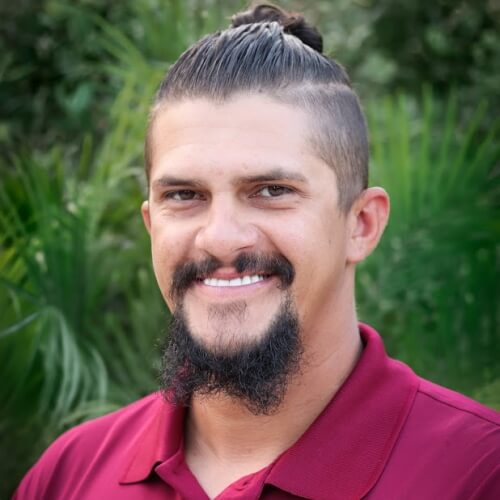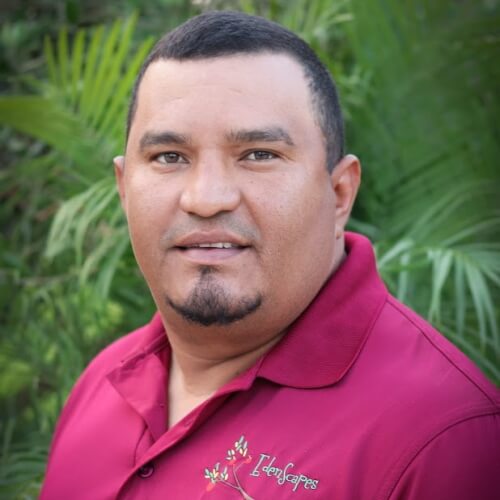 Jerson Rodriguez joined EdenScapes in Fall of 2021 as one of the Maintenance Supervisors. He has 16 years experience in Horticulture and specializes in the spring and fall annuals. Jerson enjoys cooking & spending time with his family. He also has a huge love for his dogs & football.
Jason Pinel is has over 16 years of lawn maintenance experience and is one of the Maintenance Supervisors. He is a devoted husband and father of two girls. He enjoys cooking, mountain biking, hiking, hanging out with family and taking his daughters to the park.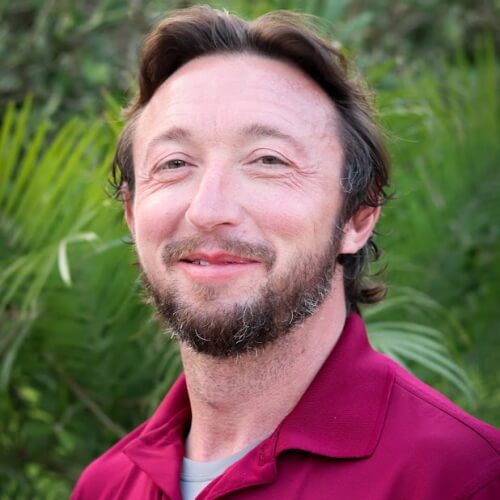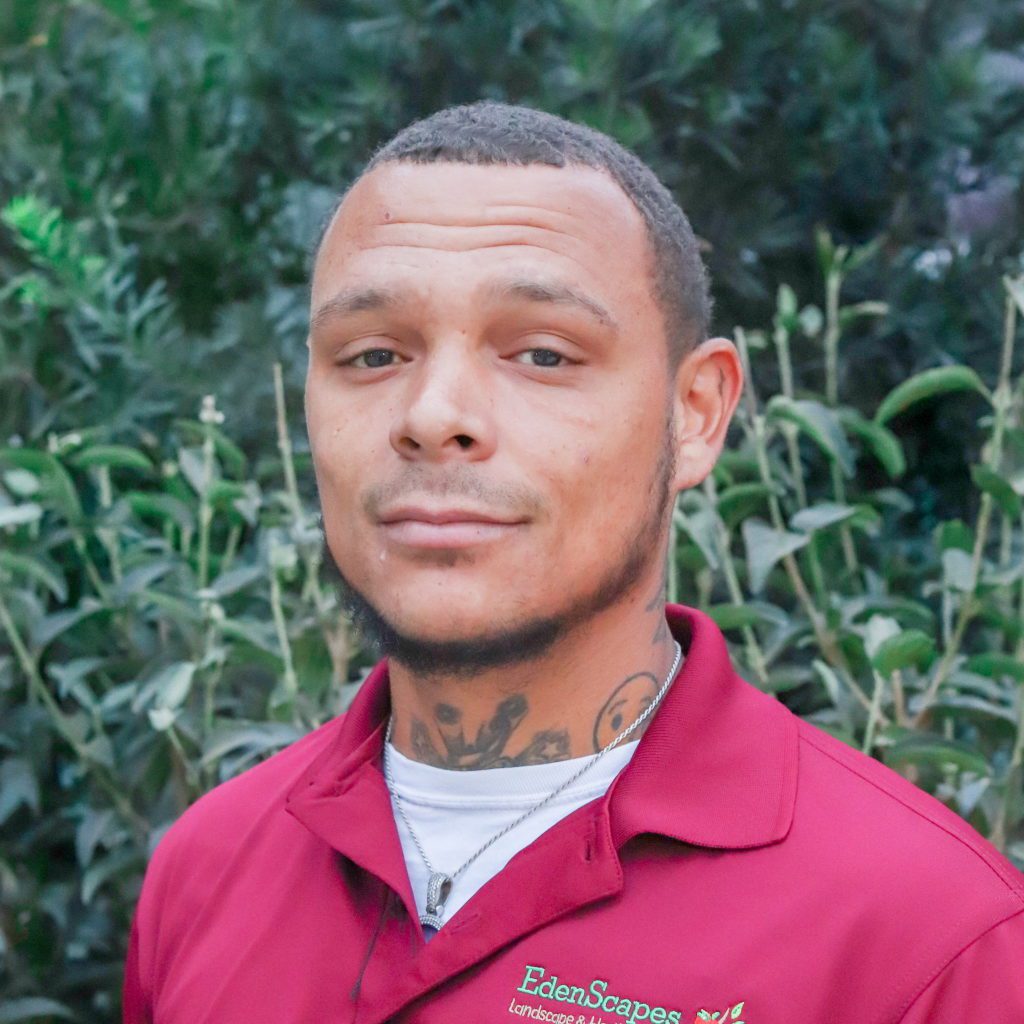 Darin Hebert joined EdenScapes in the spring of 2021 and is currently the supervisor of our Enhancement crew.  He has experience in several different industries and aspires to run his own business one day.  He loves cooking and spending time with his two sons.